HELPING YOU TO ASSESS

YOUR

NEXT

STEPS
Participate in our inspire performance workshop on "Manage your Digital Transformation" and get a unique approach on the next steps for your digital journey. Our SAP business experts and Technical architects will work alongside your key stakeholders and business leaders to offer you methodology and guidance to take you from zero to success in a short amount of time.
WHAT WILL YOU GET AT THE END

OF

THE WORKSHOP
A detailed roadmap that covers planned actions, analysis of high level cost impacts and outcomes identification of some early wins and longer term goals with agreed follow-up.
Workshop under the direction of

Dr. Tamas Szirtes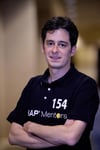 Group Innovation Director at SOA People. SAP Mentor, SAP HANA Distinguished Engineer, Chairman of VNSG User Experience.