Improving user experience, getting real-time analytics and streamlining the technology landscape are just some of the key reasons why customers are choosing to move to SAP S/4HANA. A brownfield approach to converting from SAP ECC to SAP S/4HANA is generally straightforward, rapid and low risk, letting you keep your existing infrastructure and migrate your existing data. You take all your data with you to S/4HANA in the brownfield approach, but you may decide to archive some of your historical data prior to the migration.
But many customers worry that migrating to SAP S/4HANA will take too much time and money. Although they are positive that SAP is innovating, customers want to manage their technology transformations at their own pace, without the pressure of deadlines and the requirement and effort of constantly upgrading their SAP systems. One thing all customers agree on, though, is that ERP is crucial for their business.
Speed up your conversion with automation
Now there's an automated way to migrate that will dramatically reduce project duration, cost and risk. MIGNOW is a software tool that uses AI to automatically convert SAP ECC systems to SAP S/4HANA, and is available to use for on-premise, hosted or private cloud environments including the new SAP RISE with SAP . Between 95 and 98% of ABAP and custom code is automatically converted, reducing human error and saving a lot of time. Automated yearly updates are included so customers will also benefit from the latest functionality and execution processes.
The technology behind MIGNOW
MIGNOW uses the complex techniques of AI to deploy data-driven processes. It goes way beyond manual execution and takes a step further than process-driven technologies like Robotic Desktop Automation and the self-service aspects of Robotic Process Automation. It deploys Machine Learning for prescriptive analytics and decision engines and Artificial Intelligence with deductive analytics based on neural networks and deep learning.
The MIGNOW conversion lifecycle
The MIGNOW lifecycle is fully aligned with SAP Activate and the latest agile design methodologies.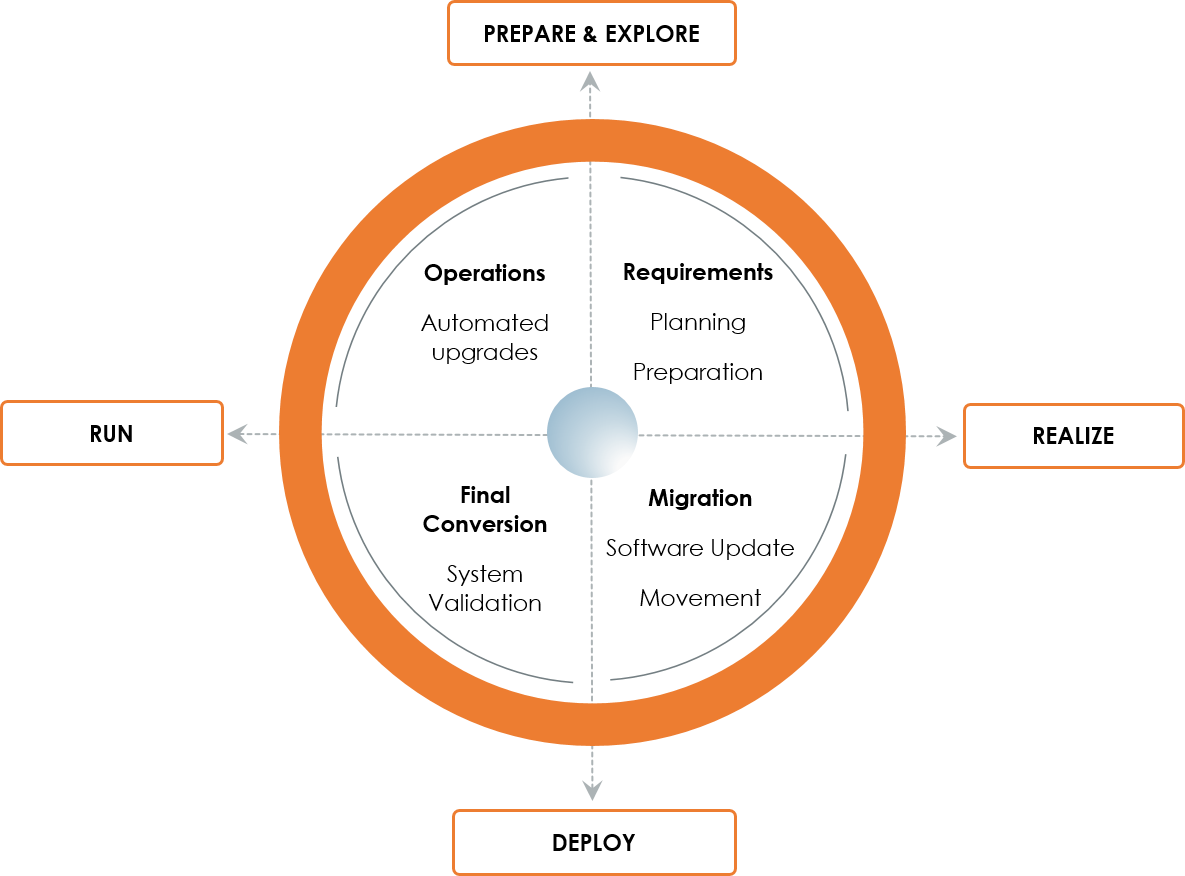 Following the initial Prepare & Explore phases where requirements are analysed and standard processes for planning and preparation are carried out, the MIGNOW tool takes you to the Realise phase, where the actual migration takes place. The Deploy phase is the conversion where validation happens and your system goes live. Finally, the Run phase covers the ongoing operations including the regular automated updates. This means that the lifecycle does not end with the go-live, because MIGNOW is always ensuring you are running the latest S/4HANA version.
Why choose an automated route for your conversion?
There are many advantages to choosing an automated route for your SAP S/4HANA conversion. Time will be dramatically reduced because most of the activities around the execution of your migration will be automated. This reduction in labour intensive processes will therefore drive considerable cost savings, minimise risk for your organisation and allow you to spend your effort for value-adding improvements.
Automated yearly updates and upgrade continuity using the MIGNOW software tool will reduce complexity and effort involved in maintaining up to date systems.