In our September 2020 blog What is SAP Business Technology Platform and is it new? we introduced this new umbrella platform which compasses a range of SAP technology services and applications. Then in late January SAP announced RISE with SAP based on the concept of business transformation as a service (BTaaS), the technical foundation for this being the SAP Business Technology Platform (BTP).
If you're wondering then what's happening with SAP Cloud Platform, its brand name may have been "sunsetted" by SAP however its capabilities are very much alive and kicking in the form of SAP Integration Suite and SAP Extension Suite under the guise of BTP.
Customers will be reassured to know that they will not see a change in any of their functionality. BTP's components are much more comprehensive, including database and data management, analytics and intelligent technologies, together with extensibility of all SAP and third-party applications. Of course, SAP S/4HANA Cloud is the main ERP component within RISE with SAP that comes with embedded AI and machine learning – and a choice of public or private cloud options, as well as hyperscaler choices.
Here we answer some key questions you're likely to have:
What is the SAP Integration Suite?
The SAP Integration Suite lets you integrate on-premise and cloud-based apps, processes and API management.
What is the SAP Extension Suite?
The SAP Extension Suite is used to simplify development of application extensions, building portals, mobile apps, launchpad and of course Fiori.
How do the consumption credits work?
RISE with SAP is all about simplifying your services bundle by giving you one contract and one offer. BTP is a part of RISE with SAP and with it comes Enterprise Agreement Credits that you can use to build integrations and extend and automate your business processes. Once you've used your credits that were part of the package, you can buy more based on the value of your RISE with SAP contract. The minimum annual credit value differs according to whether you are on Public or Private cloud. The pricing is below: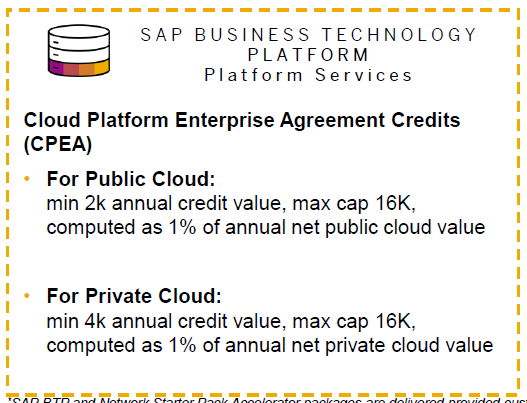 Can I get help to create a pathway for the services I need?
There are currently over 90 services available in RISE with SAP and this is changing constantly as new services are onboarded and some are retired. There are a lot of decisions to make as you move towards becoming an intelligent enterprise in the cloud. You may also find the increasing overlap of technology services confusing as providers look to expand their reach with integrated layers of tools, capability, services and security.
We strongly recommend that you use the services of a solution architect who will be able to advise you on which services you'll need to serve your business case efficiently and effectively. Our discovery workshops are designed to help customers understand what BTP components would support their business case and how they can make the most efficient choices in line with their RISE with SAP contract.
And finally, an important point to make as you move towards SAP S/4HANA is to keep your system architecture clean. Over the years many companies have inadvertently polluted their systems with custom code and other components that may have been 'allowed' but unfortunately made the architecture complex. The RISE with SAP simplified model with its one contract together with the Integration Suite and Extension Suite should help make life easier going forward.