The use of analytics has never been more important for the HR function. Organisations need to understand their performance drivers and whether creating tailored training, improving employee retention rates, or assessing job satisfaction indicators, people analytics is transforming the internal customer experience.
The HR function is increasingly data-based and although the data is highly sensitive and personal it can be used to focus on data patterns and trends. The good news for SAP SuccessFactors customers is that enhanced reporting and visualisation tools will make this much easier with the new SAP SuccessFactors People Analytics.
What is SAP SuccessFactors People Analytics
SAP SuccessFactors People Analytics allows you to make analyses of personal data to support decision-making processes. Enabled by SAP Analytics Cloud, it will improve reporting and analytics and comes in three editions; embedded, advanced and planning.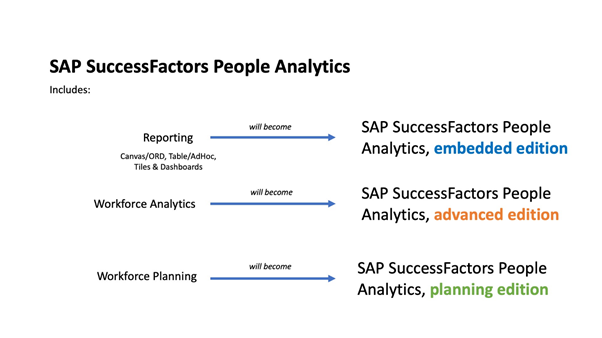 With embedded SAP Analytics Cloud you can generate operational, tactical and strategic reports over one or more domains so that the performance drivers are quantified. SAP Analytics Cloud is the business warehouse tool of SAP in the cloud. It uncovers patterns and trends through machine learning and predictive analytics, providing more capability to collaborate, plan and team-build through the use of data visualisations in dashboards.
The embedded edition comes free with all SAP SuccessFactors modules, while advanced and planning editions have additional license fees. Users will be able to create or customise reports without having to replicate data.
Improving the human experience of using HR services
HR data will improve the human resource experience and enable HR management to measure the efficiency and effectiveness of its services. Delivering built-in analytics will help HR management to make better decisions and transform their HR strategy but at the same time keep the 'human' element of HR.
Find out more from our SAP SuccessFactors experts.