Het gebruik van analytics is nog nooit zo belangrijk geweest voor Human Resources. Organisaties moeten hun prestatiedrivers begrijpen en, of het nu om creëren van op maat gemaakte trainingen, het verbeteren van de retentiegraad van werknemers of het beoordelen van indicatoren voor arbeidstevredenheid gaat, transformeert People Analytics de interne klantervaring.
Het werk van HR is in toenemende mate gebaseerd op gegevens en hoewel de gegevens zeer gevoelig en persoonlijk zijn, kunnen ze worden gebruikt om datapatronen en -trends te identificeren. Het goede nieuws voor de klanten van SAP SuccessFactors is dat verbeterde rapportage- en visualisatietools dit veel gemakkelijker zullen maken dankzij de nieuwe SAP SuccessFactors People Analytics.
Wat is SAP SuccessFactors People Analytics?
SAP SuccessFactors People Analytics stelt u in staat om persoonlijke gegevens te analyseren ter ondersteuning van besluitvormingsprocessen. Ingeschakeld door SAP Analytics Cloud zal het de rapportage en analyse verbeteren; hij komt in drie edities: embedded, advanced en planning.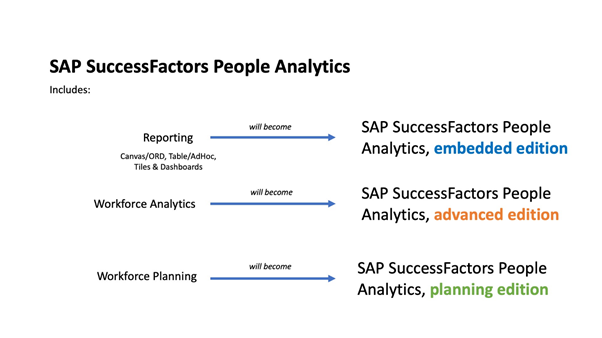 Met de ingebedde SAP Analytics Cloud kunt u operationele, tactische en strategische rapporten genereren over één of meerdere domeinen zodat de prestatiedrivers worden gekwantificeerd. SAP Analytics Cloud is de business warehouse tool van SAP in de cloud. Het brengt patronen en trends aan het licht door middel van machine learning en voorspellende analyses, waardoor er meer mogelijkheden zijn om samen te werken, te plannen en teambuilden via het gebruik van datavisualisaties in dashboards.
De embedded-editie wordt gratis meegeleverd met alle SAP SuccessFactors modules; geavanceerde- en planning-edities hebben extra licentiekosten. Gebruikers zullen in staat zijn om rapporten te maken of aan te passen zonder gegevens te moeten repliceren.
Verbetering van de menselijke gebruikservaring van HR-diensten
HR-gegevens zullen de Human Resource-ervaring verbeteren en het HR-management in staat stellen de efficiëntie en effectiviteit van zijn diensten te meten. Het leveren van ingebouwde analyses zal het HR-management helpen om betere beslissingen te nemen en hun HR-strategie te transformeren, maar tegelijkertijd het 'menselijke' element van HR te behouden.
Raadpleeg onze SAP SuccessFactors experts.